This year again sees the return of the Original Bewdley Ghost Walk. For those who have come along before, you will find we have changed the route slightly, added more tales of mayhem, murder and mystery – but a little bit less history in order to still make it a manageable walk. Who knows what grisly tales you may discover on the new route.

Our meeting place for the walk will be the foyer of The George Hotel, Load Street which in itself is a very active building and holds a strong place in the history of the town. Bewdley is a very historical place and we will be walking past and stopping outside many of the old buildings that still exist, including the Bailiffs House, The Old Workhouse, The Church House and many more. We shall cover tales of royalty, war, woe, fear, murder and guilt, to name but a few and we are sure to raise a few eyebrows I'm sure with the hidden past of this normally peaceful town. Who knows we may even be joined by some of the spectral visitors that still walk these ancient streets.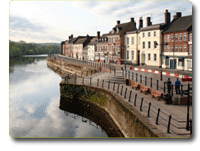 Come and join us as we try and discover the past that still lives, unseen to many eyes, throughout this historical town. It will not be a hard walk, but a gentle walk with many stops along the way. Each walk is lead by a working medium who will also give messages from spirits they encounter along the way during the evening.

Tickets can be purchased online, over the phone by credit card or from the Bewdley Tourist office.

The Original Bewdley walk takes place the first Friday of each month meeting at 630pm (for a 7pm start and lasts approximately 2 hours). We run walks from February to December (no January walk sadly)

For tickets pay via the PayPal buttons. Alternatively you may phone us on 0121 643 8494 and pay via credit card, or visit the Bewdley Tourist Information Office.
Notice: When weather conditions are exceedingly bad, especially for the winter months, some events may need to be cancelled for the safety of our guests - so if in doubt please call us on the day or check our web site to confirm that the event will be taking place. We will only cancel events in dire weather - a little bit of rain never hurt anyone :) In the unlikely event that this should occur we will transfer your ticket to the next available event that you can attend.